Never want to miss a news update again? Subscribe to our newsletter!
Project:
Waterproofing basement with
Liquid Rubber HBS200
Description:
Both in residential and non- residential buildings, cellars are always a challenge when it comes to a good waterproofing. A basement has various critical connections, such as the concrete connection and for example the vertical joints. Sealing these critical connections are extremely necessary.
In this housing project, the client has chosen to seal only the most critical connections. A concrete surface should always be carefully cleaned so that the concrete veil is completely removed. After cleaning the basement, Liquid Rubber HBS200 is applied directly to the surface. This 1-component product does not require a primer, which makes it very easy to apply. Liquid Rubber HBS200 can be applied with a brush, roller or spray system. First of all, the concrete connection joint is fully covered with HBS200 and directly armed with a Geotextile. This ensures a strong connection from the foundation to basement wall. Then, a second layer of HBS200 is applied over the Geotextile. Liquid Rubber HBS200 has a lasting flexibility of 900% and can easily handle the movements in the basement.
At this project, Liquid Rubber realizes full and sustainable waterproofing at the critical connections of the cellar.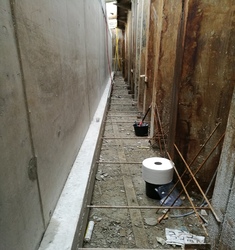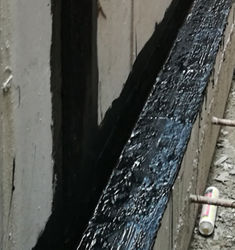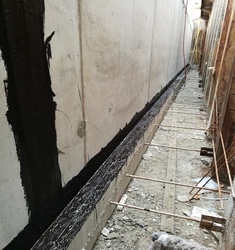 Follow us on Facebook, Twitter and YouTube.
On our social media account we post informative, interesting and entertaining posts. On YouTube we post videos that are informative and demonstrate the large number of possibilities of our product range. Besides following our developments you can also share your opinion about Liquid Rubber with the rest of the world.
Click the following buttons to follow Liquid Rubber Europe.